Yoast vs. All In One SEO: Battle for the Best SEO Plugins for WordPress
Posted on Feb, 27, 2019 I Elise
The reasons why we use WordPress over its alternatives lies in its user-friendliness and unparalleled flexibility that allows it to be used everywhere, from small business websites to personal blogs.
For example, did you know that WordPress is powering over 26% of the web? There are many website builders or content management systems like Wix, Shopify, Weebly etc. but WordPress is most popular. This content management system also has 1.1 million new registered domains every six months, as well as 41.7 million new posts monthly.
With 583,000,000 listings, WordPress is dominating Google's search results.
Unfortunately, for you as an online marketer, the rising popularity of WordPress means greater competition to fight against.
And, given that almost 80% of online users don't scroll past the first page of search results, you need to rank high to beat your rivals.
That's exactly why you need to choose the right SEO plugins for WordPress to back you up.
Yoast SEO
The Yoast SEO plugin is the most popular tool among millions of WordPress users for a good reason. Whether you're running a local business or you're an SEO specialist managing a client's website, Yoast SEO will help you improve different aspects of your SEO strategy.
With Yoast, you can set title and meta description templates. This is incredibly important, given that your meta tags are the first thing users see in the SERPs and can greatly impact your traffic and click-through rate.
Providing a Comprehensive Page Analysis
Yoast analyzes the SEO aspects of each page on your WordPress site, including your content readability, meta tags, dofollow and nofollow links, the use of keywords, and so forth.
The snippet editor also lets you see your pages through the eyes of your visitors before publishing them.
Taking care of the technical SEO aspects
The Yoast plugin edits your robots.txt and .htaccess files and offers advanced XML sitemaps functionalities.
It also helps you solve the problem of duplicate content, by allowing you to set a canonical URL and control which pages Google will index.
Finally, it provides full control of breadcrumbs. Yoast gives you an opportunity to set the main category for each page and then determine its taxonomy.
Providing content insights
The plugin will analyze your website content for you and tell you what words you're using too often.
Also, it improves your website architecture by analyzing page content and providing relevant internal linking suggestions.
Increasing Website Visibility in Local Searches
The growth of mobile devices and voice search further impacts the rise of local SEO practices. Research says that 22% of voice searchers are looking for local business information.
Here's an example.
Let's say you're a New Zealand-based business. Your goal is to appear in front of local audiences and turn them into paying customers.
In this case, consulting an SEO agency in NZ that knows the needs of your local market is a wise move. They will help you understand your audiences, align their search intent with keyword research, build authoritative local links, and grow your WP site's visibility on search engines.
Once you build a solid local strategy for your New Zealand customers, you should keep it updated and that's where the Yoast Local SEO Plugin steps in.
The Local SEO plugin provides Google with the details about your business, such as its name, type, location, opening hours, and so on. It also helps you create a perfect contact page, letting you embed Google Maps so users can get directions fast. Finally, if you have multiple stores, you can add a store finder to your WP site and even optimize your Google My Business listings for business location.
All in One SEO Pack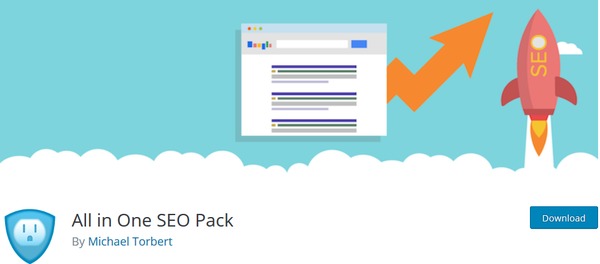 All in One SEO Pack has over 2 million active installations and stellar user ratings.
Its mere name is self-explanatory – it's an all-in-one solution for WordPress users. Probably the biggest advantage of All in One SEO Pack is that it's beginner-friendly and you don't need to have any previous SEO experience to start off.
Some of the most prominent features of All in One SEO Pack are:
XML Sitemap support, meaning that you can submit your sitemap to Google or Bing to boost your SEO. It also provides Google Analytics support.
Offering Google AMP support. As you probably know, Accelerated Mobile Pages provide an exceptional mobile user experience.
Notifying search engines about any changes to your site.
Generating meta tags automatically.
Providing sophisticated customization options, meaning that you can fine-tune almost every aspect of your online presence to gain better results.
Preventing duplicate content that can get you penalized.
It is highly adaptable. Based on your needs and preferences, you can enable or disable different SEO features and focus on those that matter to you.
It integrates with WooCommerce, which is great if you're planning to sell products on your site.
The SEO Framework
With 5-star ratings and over 80,000 active installations, The SEO Framework has won the hearts of many online users. Even though it cannot compete with the ever-growing popularity of WordPress, it has a myriad of advantages. Some of them are:
Letting you configure meta titles, social meta information, basic schema information, robots.txt, and sitemaps.
Improving social sharing opportunities. It supports the Open Graph and Twitter Cards protocols, making your blog posts look amazing when shared across multiple social networks.
It's unbranded, meaning that there will be no ads or plugin names within your WP site. Clean website interfaces can significantly improve the overall user experience.
Its extensions cover different aspects of your online presence. For example, the Local SEO extension helps you rank higher in local searches, while Focus helps you write optimized content around your local keywords.
Handling the technical aspects of your online presence, such as preventing canonical errors or 404 errors.
Letting you monitor your post performance easily and providing actionable tips.
The only negative thing about The SEO Framework is that setting it up may be too complex for beginners. So, if you don't have any WordPress or SEO knowledge, you should consider using the abovementioned plugin options.
Over to You
Each of these SEO plugins has its benefits.
Yoast SEO lets you handle different aspects of your online presence, from local SEO to video optimization.
All in One SEO Pack is easy to use and it integrates with WooCommerce.
If you already have certain SEO and WordPress knowledge, then the nice interfaces, multiple extensions, and analytics features The SEO Framework offers may be the right choice for you.
The most amazing thing about these three killer plugins is that they are free. Sure, to add some advanced functionalities and take your SEO tactics to the next level, you will have to switch to their premium features.
Which SEO plugins do you use?