7 Best Tools and Plugins for Monitoring Uptime and Downtime in WordPress
Posted on Jun, 20, 2019 I Elise
When it comes to WordPress, there is no denying that it is one of the best CMS out there. It provides ease-of-use, a fantastic ecosystem with hundreds and thousands of free themes and plugins and a great community.
Not only that it also comes with tools and techniques that let you know your website's uptime and downtime. WordPress can be a great CMS, but many factors decide on the total uptime and downtime of your WordPress website.
As an owner, you should always vary about these parameters as it will help you understand your website performance, and help improve it. That's why you will find a lot of monitoring tools and services for WordPress. In this article, we will list the seven best tools for monitoring uptime and downtime in WordPress. But before we start, we need to understand the terms, "Uptime" and "Downtime."
Uptime
The uptime of a website means the duration for which the website is operational. If the website goes down, its uptime is affected. Also, a site is in operation until and unless major instances or services of the websites go down.
Current best WordPress hosting provides offer uptimes as good as 99% and that's too is the standard in the industry for measuring the quality of a good hosting provider. A good uptime is needed for better website performance. It will also ensure that the website earns through monetizations and have good SEO rankings as well.
Downtime
As you might have guessed it by now, downtime is the duration for which the website is not operational. This also means that visitors will not be able to visit the website or have erratic behavior when some service or part of the website is down.
Downtime can happen due to multiple reasons including server load, web hosting issues or plugin/theme malfunction.
Why you need to monitor your website's Uptime?
So, why do we need to monitor our website's uptime? Let's try to understand it below.
If a client finds a business's website going down from time to time, he will find it hard to trust your company. This is how humans think as they will find it hard to digest the fact that you can provide quality service when it becomes hard for you to keep your website up.
Customers who buy stuff can leave your website if they see downtime when making a purchase. This can be a significant loss for any eCommerce business.
The search engine keeps a close note at your website performance including downtime. If your website goes down more often, they will penalize it, and you will find it hard to maintain your rankings.
All of these reasons should be more than enough for you to monitor your website's uptime and downtime. If you find any issues, you should solve it with the help of your developers or the hosting support.
Here are 7 Best Tools for Monitoring Uptime and Downtime:
1. JetPack
JetPack is one of the most comprehensive WordPress plugins out there. It is a collection of plugins that provide you with social media tools and even a website monitor! Yes, you read it right. If you are already using JetPack, then you are good to go with the monitoring aspect. It also sends a notification to the site administrator in case if the website goes down. This is very important for critical websites as it can alert the admin through email. At the time of writing, there is no option for SMS notification.
If you are looking for a plugin that offers more than just simple monitoring services, then JetPack is for you. However, Jetpack is a heavy plugin and can impact website performance by a few seconds. That's why it if you are using good alternatives for Jetpack functionality, it is a good idea to skip it.
2. DownNotifier
DownNotifier is an external monitoring tool which means that you don't have to install any plugins to get downtime notification. It is a website service which can be used to alter you in case if the website goes down.
It offers three monitoring services: free monitoring, premium monitoring, and enterprise monitoring. Let's discuss them below.
Free monitoring: Free monitoring is done every 10 minutes. All you need to do is enter your website URL and email address to which the notification will be sent. Also, you can set it up to notify you in two conditions. First one is when the site is offline, and the other one is a specific text is missing. Moreover, you can also enable SMS alert.
Premium monitoring: Premium monitoring offers everything that free monitoring has to offer. However, it monitors every one minute. It also has the option to alter multiple people and provide a detailed report. It starts at only $14.95/year and can be used on five websites.
Enterprise monitoring: Enterprise monitoring is for enterprise business who want cutting edge monitoring. It monitors at an interval of just 20 seconds and comes with seven days of full monitoring logs. Also, it has everything from the premium monitoring plan. You can get enterprise monitoring for just $99/year, and it is valid for 25 websites.
Overall, Down Notifier is an excellent service. If you are a blogger or just starting your website, the free monitoring is all you need.
3. Monitis

Monitis is a website performance monitoring platform. It is owned by TeamViewer Company, and they provide comprehensive monitoring services. They perform four checks, i.e., full page load monitoring, uptime monitoring, web stress tester and transaction monitoring. According to them, it is essential to monitor all of these four parameters for optimal performance.
They use cloud-based servers to do monitoring as they check for availability and response time every one minute. Moreover, it offers a 2-year history which is quite comprehensive and useful for websites who want the old data for analysis purposes.
They also provide other website checks including email tests, multiple protocol tests, public IP checks, and so on. Also, reports are sent out as soon as issues are detected on the website.
Monits is also a good choice if you have an eCommerce website considering that it provides transaction monitoring. This means it will report any issues with payments and help you solve them as soon as possible. This feature is essential as it helps you in saving your customer base and also run campaigns flawlessly.
Monitis offers both premium services with a free 15-day trial. Once it is done, you need to pay for it. To know more visit their pricing page.
4. Pingdom
Pingdom is a popular availability monitoring and website performance service. As of now, they offer a 14-day free trial. It helps you to always stay at the top by monitoring your website and informing you if any problems occur. It provides services such as real user, uptime, page speed monitoring. It also offers synthetic interaction testing, reliable altering, and root-cause analysis.
Pingdom can be used by a team, and there can be multiple people looking out for issues and fixing them. Moreover, you can also use API integration and automate most of the tasks.
Pingdom is created for e-Commerce, developer, and managers. It gives each one of the specific features that can help them manage or monitor their website better. The base plan starts at just $9.95/mo. You can check all other plan here.
5. Site 24*7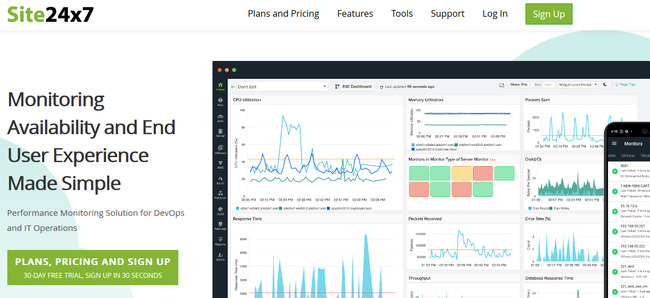 Site 24*7 is also a dedicated all-in-one monitoring solution. They are aimed more towards IT operations and DevOps. It offers website performance monitoring, server monitoring, network monitoring and so on. It comes with 30 days free trial. After that, you need to pay for the service which starts at only $9/mo.
The tool is mainly aimed at those businesses who are running complex solutions on WordPress.
6. Manage WP Worker
ManageWP Worker is a simple-to-use plugin that lets you not only automate workflow but also provide performance and security checks. This means you can also use monitor your website and know when it is down. Once you set up your website on ManageWP, you don't have to worry about anything as it monitors all the important aspects of the website including SEO, Uptime, and Google Analytics. You can also run the benchmark and see how your site is performing.
You can also use ManageWP for free! It offers a limited set of features, but it doesn't come with Uptime monitor. For that, you only need to buy $1 uptime monitor per website. They also offer a bundle, and you can also take advantage of it. Check out the pricing page to know more.
7. Super Monitoring
Super monitoring is also a popular monitoring plugin for WordPress. It offers a great interface and integrated to WordPress using their plugin.
Super monitoring is different from other services as they let you choose the interval for monitoring. It can also be used on multiple websites.
You can try the 14 days trial. However, the basic plan starts at $14.99/mo which provides 3 URL monitoring. It also comes with SMS credits so that they send out SMS when problems happen.
Conclusion
This leads us to the end of the seven best tools for monitoring uptime and downtime in WordPress. So, what do you think about the list? Do you think we should have added more tools? Comment below and let us know.