10 Best PSD to WordPress Conversion Services in 2020
Posted on Oct, 16, 2020 I Elise
Stats show that 37% of the total websites on the internet in 2020 are powered by WordPress. The most popular content management system (CMS), WordPress has become a preferred choice for website creation today, but how will you stand apart from the competition if your site also looks similar to others?
To get started with a unique design for your WordPress site or blog and stand apart from the competition, one great way is to create your own unique and customized design using Photoshop. Once the designs are ready in PSD format, you can then convert it into WordPress and kickstart your unique online presence.
In this article, we will talk about PSD, WordPress themes, and share with you the names of the best PSD to WordPress conversion services that you can trust on.
First one in the list is WPCodingDev, a completed WordPress service provider with a team of WordPress geeks who can help you in converting your PSD to WordPress. A company focused thoroughly on WordPress, WPCodingDev also offers HTML to WordPress, plugin development, WordPress customization, and WP developers for hire.
Discuss your designs with them, share your requirements along with the PSD file, and they will do the rest. The converted theme will be mobile-friendly, optimized for Google and other search engines, and compatible with major browsers.
Another top service provider for this purpose is PSD2HTML. As the name suggests, the company is working on all types of projects related to PSD to HTML conversion. For PSD to WordPress sites, this is a great service provider since they are doing it for around 15 years now.
They convert your unique Photoshop design into a pixel-perfect WordPress website exhibiting multi-browser compatibility, SEO-optimized templates, and high responsiveness.
Their communication channel for every project is something every client wants. You get help from a dedicated project manager who handles your design conversion and keeps you updated about the project status through a video call or any other communication channel. Your final designs go through a testing lab to ensure that everything is working fine with the site.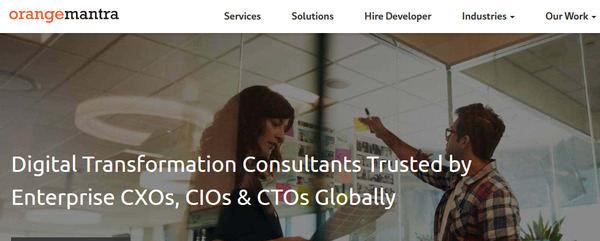 Orange Mantra is a digital transformation consultant, providing a wide range of digital solutions including eCommerce, mobile app development, PSD to WordPress conversion, and digital marketing services. For your PSD to WordPress project, you can trust them. The converted WordPress site will exhibit all the critical components and elements, such as cross-browser compatibility, W3C validation, widgets, search engine indexing, etc.
4. CSSChopper
CSSChopper, as the name suggests, is known for its work in breaking, developing, and converting everything related to CSS. The company provides various types of conversion services along with PSD to WordPress. You can also opt for CSSChopper if you need conversion to WordPress sites from JPG, sketch, AI, or other design-based files. You get user-friendly and quick-loading WordPress websites with an intuitive backend for easier management and customization of the website.
They also suggest and install appropriate plugins to add more features, simplify things, improve performance, and enable robust security. The websites converted from PSD file to WordPress will work well and responsively on devices with varied screen sizes. Their team performs a check to make sure that the site loads properly on all the major browsers, like Google Chrome, Safari, Firefox, Opera, etc.
A great way to get your Photoshop Designs converted for WordPress sites is to choose PSDgator. Known for 24/7 online support and quick delivery, they offer conversions that work well on desktops, tablets, and mobile devices. A free SEO plugin is installed by them for optimized rankings on search engines. They also claim to refund if you are not satisfied with the services.
6. HTML Panda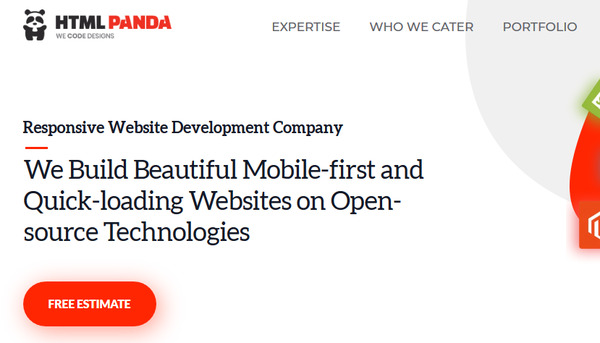 Another good service provider is HTML Panda, delivering browser compatible, responsive, accessible, and pixel-perfect conversions. Known for quick-delivery and response time, Wordsuccor ensures that you get SEO-friendly and intuitive navigation that supports both fixed and fluid layouts and multi-level dropdown.
7. Reliable PSD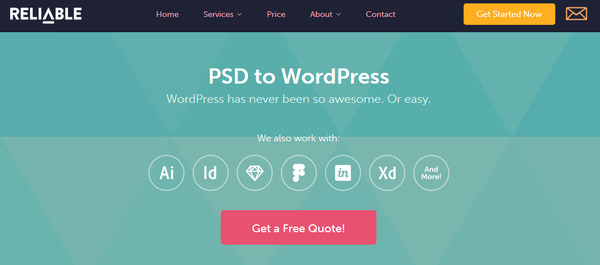 The developers at Reliable PSD focus on creating a reliable WordPress website from the assigned PSD. They customize the back-end code so it becomes easier for you to edit and customize your site. You can ask them to convert the Photoshop designs for specific screen sizes and they will work on the code accordingly. Reliable PSD also converts PSD to WordPress for eCommerce websites.
8. PSDtoWP
PSDtoWP holds expertise in this field. The developers and designers at this service provider slice the Photoshop designs into high quality and functional WordPress themes. You can then upload these themes to your site and get things going with customization.
The themes converted by PSDtoWP are clean, loads fast, optimized for SEO, and compliant with W3C standards. Once your theme is ready, they offer testing to you where you can check if things are working as expected and ask for further customizations.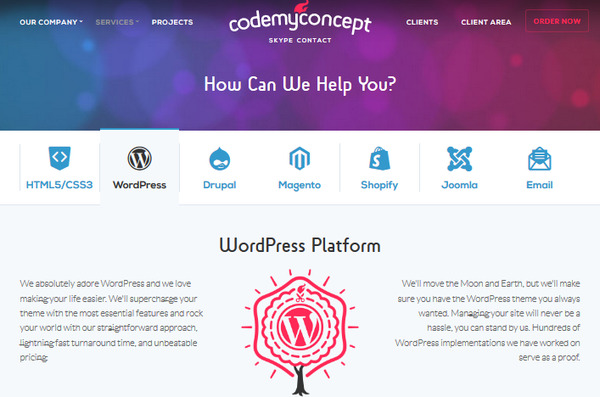 The team at Codemyconcept takes only three days to complete your project. If you are looking for a quick service, you can opt them. For your WordPress website, they also offer blog setup with options to customize, add posts, delete and modify comments, etc.
The buttons, comment sections, search bars, and other widget areas are customizable with the WordPress themes converted by Codemyconcept. Additionally, you get support for 30 days, so that you can get back to them in case things don't work properly for you.
10. mypsdtohtml

You would also like to check out mypsdtohtml for your Photoshop design to WordPress theme conversion. Adhering to recent standards and guidelines, the themes converted by the developers at mypsdtohtml are W3C validated, properly formatted, and easy to manage. For SEO, you get the required plugins installed.
Handing over to you:
So, this is a well-crafted list of the top companies converting your PSD to responsive WordPress themes. On the basis of your budget, time of delivery, support, and requirements, you can choose the right service provider for getting converted your artwork into a website.
If you have any queries, feel free to reach us out using the comment section below.