10 Best Website Builders for Small Business
Posted on Nov, 24, 2020 I Elise
38% of users won't engage further with a website if the design or layout is not attractive.
39% of users won't engage further with a website if the images don't load fast.
47% of users expect your website to load within 2 seconds.
75% of users judge the company's credibility based on website design.
Now, that's too much pressure for any business. And it gets multiplied manifold if you have a small business.
You already have a competitor with deep pockets giving you a hard time. And then there is the pressure of creating a website that stands out.
The only way out is to find a suitable website builder.
But most website builders offer somewhat similar features. Customization control, add-ons, and templates are something that you'll find everywhere. Mobile responsiveness and SEO functionalities can also be found among the generic features.
So, what are the best website builders?Well, itis a question that experts quarrel over.
But, we took the most popular ones for a test drive. And found the 10 best website builders. And these are the options that have features that are necessary for small businesses in 2021. And beyond.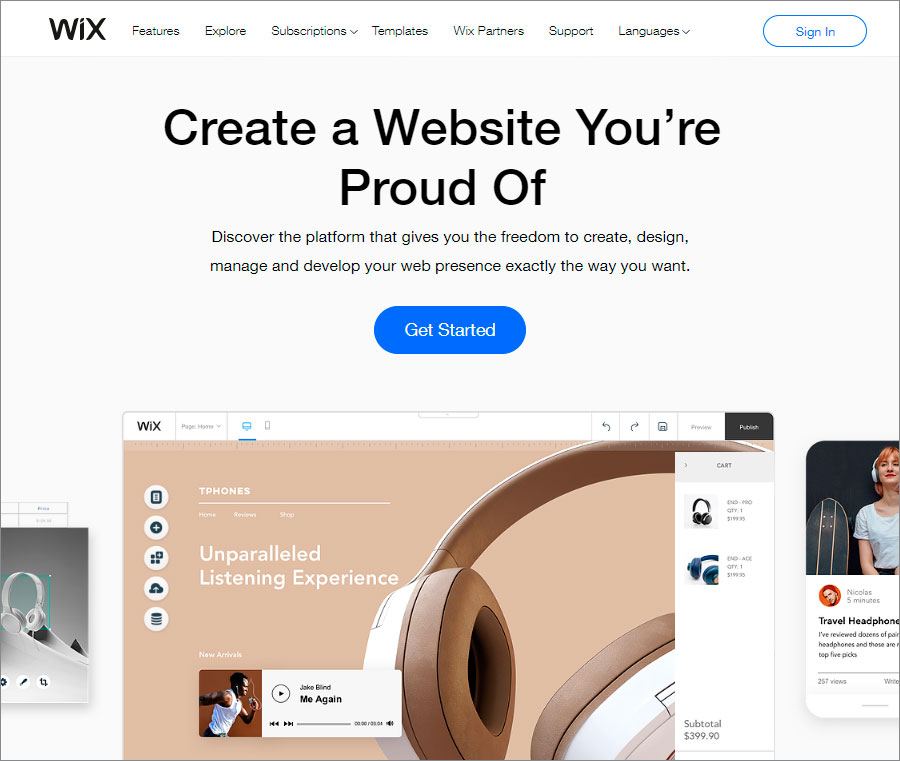 Used by 100 million people across 190 countries, Wix is a most popular website builder.
Price: $23/month if paid annually (Business Basic plan)
Why is it great for small businesses?
Ease-of-use: Wix is not the only website builder with a drag-and-drop editor. But it is surely the best. Small businesses don't have much time to navigate a steep learning curve. And they will undoubtedly benefit from Wix's easy interface.
Great Help Features: If you aren't a master coder and don't want to pay coders to work for you, you'll need someone to guide you. And Wix makes sure you have help at hand with all its great help features.
Scope and Scalability: Unless your business is on the way to becoming a global household name, Wix has more than enough scope for scaling. And it has templates and features for a wide range of businesses. From blogs to an eCommerce store, there is nothing that Wixwon't let you do.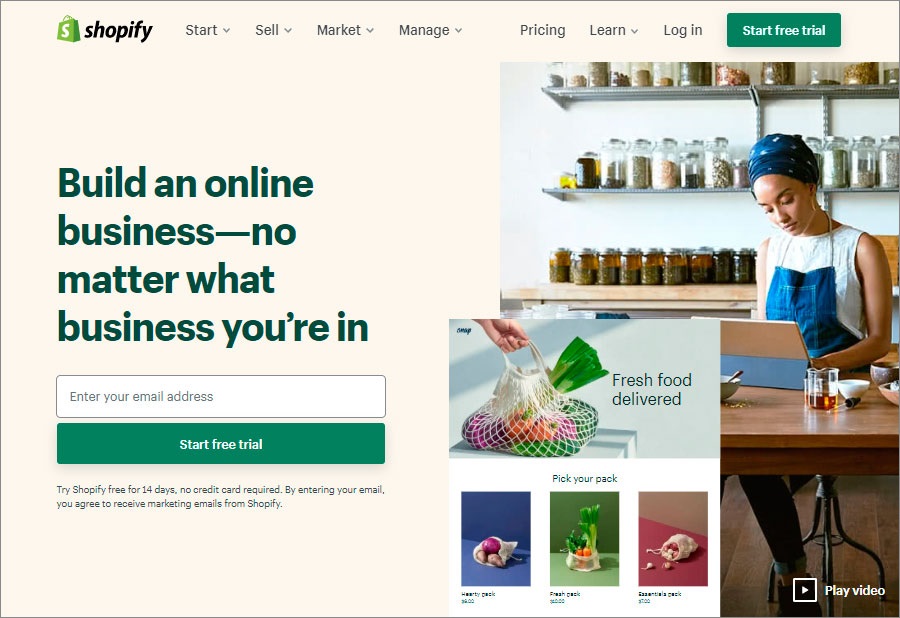 When it comes to finding an eCommerce website builder, Shopify is the obvious choice. Shopify is the website builder-cum-SaaS (software as a service) solution for small businesses with big dreams.
Price: $29 per month
Why is it great for small businesses?
Expandable toolset: Shopify is not just a website builder. As a SaaS solution, Shopify gives you access to all the tools for your online store, even in the basic plan. Plus, there are third-party integrations called apps. These apps offer enhanced functionality when you want to scale.
Support when you need it: Shopify offers round the clock support via email, call, and chat. This is in addition to the extensive online resource materials that you can access for guidance and problem-solving.
Easy Managing: Shopify lets you manage your online store with ease. From payments to inventory management and even cross-platform selling, Shopify lets you stay on top of your game.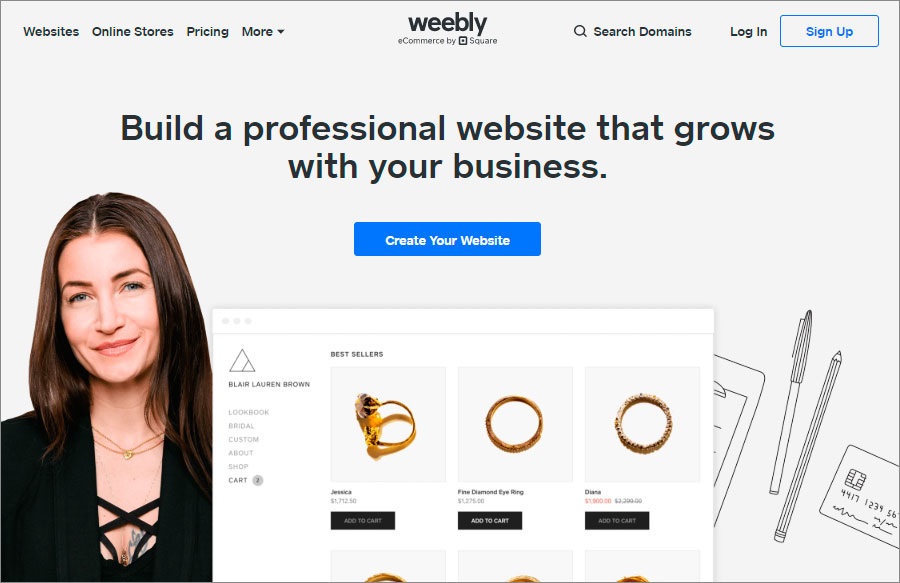 Weebly is the4th most popular option in the Simple Website Builder category. And rightly so, it does offer small businesses all that they are looking for at an affordable cost.
Price: $25 per month plan
Why is it great for small businesses?
Flexible Security: Publishing password managed pages publicly and privately can come in handy. Especially when businesses want to make sure that only the right audience is viewing certain content. Weebly lets you easily do that.
Robust Customization: A variety of customizable templates is the biggest selling point of Weebly. It gives small business owners the flexible ease of having premade templates along with options to tweak it as per your need.
Third-party apps: Weebly doesn't bring a lot of eCommerce functionality to the table. But it does offer third-party apps to compensate for that. From calendars to maps, there is a lot that you can add to your Weebly website.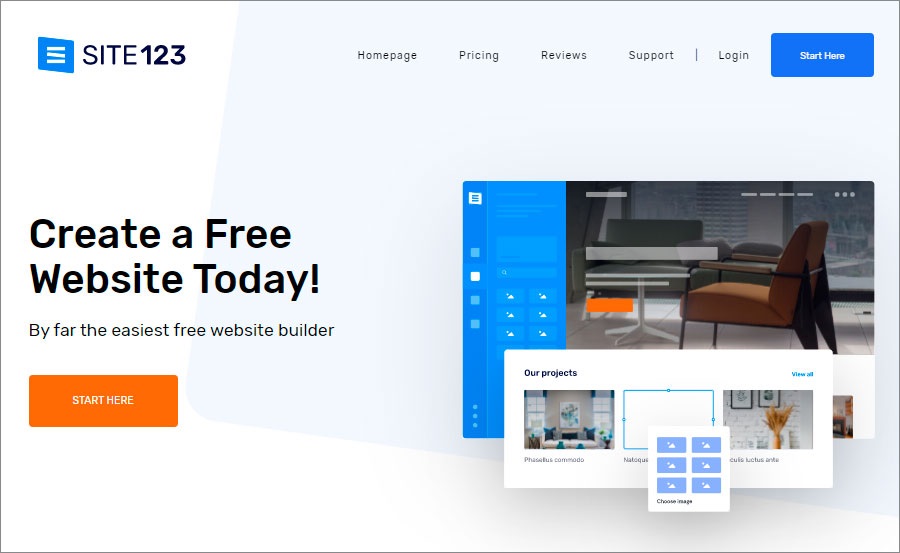 SITE123 is the website builder that markets itself as an easy DIY solution for website building. It does not come with a drag-and-drop editor but is still super easy. With guided tours and a user-friendly dashboard, getting started and finishing your site isn't tough.
Price: $12.80/month
Why is it great for small businesses?
Secure Transactions with no Sales Commission: Even if you are on a free plan, SITE123 does not charge you any commissions on the sale. (You only pay transaction fees to your payment partner, which is uniform across website builders). Also, SSL/HTTPS securityis available in all plans.
Multilingual website: Small businesses can now easily tap local and international markets with multilingual websites. You can use SITE123 in 21 languages. And select five out of the hundreds of languages to display your website in.
Apps, Plugins, and Support: With SITE123's top-tier plans, you can integrate with top third-party service providers using apps and plugins. Some of them are free, and others need to be paid for. If you have any queries or concerns, you have live chat support, send an email, use the Support Center, or read the FAQs.
Webnode is the underdog among the top website builders for small business owners. It does not come with bells and whistles, but the functional tools are all intact. It isn't the easiest to use, most flexible, or the most feature-loaded option. But it lands right at the cusp of all these features, giving a little something in every sphere.
Price: $3.9/month for the Limited Plan
Why is it great for small businesses?
100s of templates and customization scope: Webnode comes with hundreds of templates to choose from, sorted into eight categories. Though some might say the customization scope is limited. But, small businesses would feel at ease with having to do little and still getting great templates. Plus, youhave a custom contact form builder too.
Multilingual sites with SEO functionality: While SEO and multilingual site options are available in other builders, Webnode offers the simplest setup. The multilingual feature duplicates your site structure and user experience in whichever language you want. And SEO guides set realistic expectations and guide you towards ranking high on Google.
Ecommerce functionalities with Smart tips: Unless you are running an ecommerce store with hundreds of products, Webnode suffices. It has decent order management features too. And smart tips pop up at the right places to help you know what to do and how.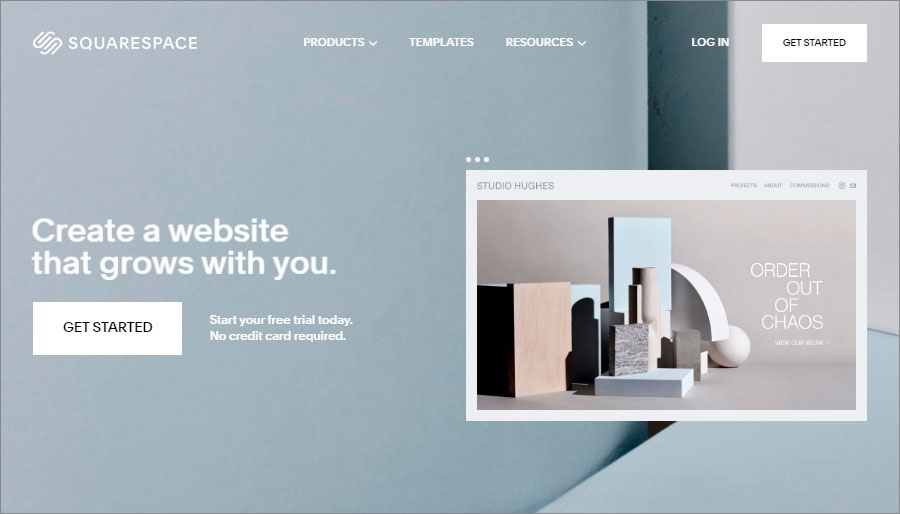 Designed keeping in mind the DIY users, Squarespace is among the best website builders for small businesses. It is simple, secure, supportive, and an all in one platform. Squarespace makes no far-fetched claims. But it does deliver on its promise of being a low effort, high result offering.
Price: $12/month, paid annually.
Why is it great for small businesses?
Simple and Secure: Squarespace is a closed-source platform and, thus, is super safe. Also, the backend is sleek and simple. This ensures small businesses don't have to spend much time or money on website building and security.
Supportive all through: Squarespace has a large team of support staff ready to serve you any time. There is a live chat feature; support is available on email. And you can access a lot of free information on their library of articles.
All-in-One platform: Being close-sourced, Squarespace comes with many features inside the box. From blogs to an ecommerce store, everything is most built-in. Though you still have an option to add additional features and tools if the need be.
BigCommerce is a hosted SaaS solution that helps you create an online store and host it too. With no fuss and several functionalities that are hardly found in rivals, BigCommerce is an ideal pick for small online store owners.
Price: $29.95 per month
Why is it great for small businesses?
Robust Ecommerce functionality: Unlike its competitors, BigCommerce correctly handles product variants with ease. It offers cart abandonment-related features and dropshipping functionality. And even offers Point of Sales (PoS) solutions.
SEO and Analytics functionality: Besides proper blogging functionality, BigCommerce also lets you create smaller URLs, carry out image optimization, and has Accelerated Mobile Pages.
Ease of Use and Support: BigCommerce has a reasonably easy to use interface and great support. 24/7 support is accessible over phone, chat, or email. Small business owners can either try and find solutions for their queries using the help pages or skip straight to contact details.
The big guy in the website building world, WordPress.org powers one-third of the web. And being an open-source platform, WordPress is fit for anyone and everyone. In the case of small businesses, the fact that it is free is what takes the cherry on the cake. Robust functionalities for free aren't something you can turn down, isn't it?
Price: Free (you only have to pay for hosting)
Why is it great for small businesses?
Multiple Options in Every aspect: From templates to plugins and customizations, with WordPress, the sky is the limit. Being an open-source platform, there is no end to the options it offers in terms of plugins and templates to editors and third-party integrations. This is something that gives small businesses unrestricted access to growth.
Online resources and community support: WordPress has a very wide community base. While there is no dedicated support, you can easily find solutions from the ocean of guide content available online and from the community of expert users.
Freedom to grow at your own pace: Want to stay the same for a decade? WordPress lets you do that. Want to grow by the minute? WordPress has enough functionalities to let you do that too.
There is a wide gap between the resources, especially skilled manpower that is available for small and large businesses. And Jimdo aims to bridge that gap by letting small business owners take advantage of AI. Jimdo Dolphin, the AI-based editor, and the simple Jimdo Creator give businesses a wide scope to create websites that stand out.
Price: $9/month if paid annually
Why is it great for small businesses?
All-inclusive affordability: Jimdo's plans come with custom domain options, HTTPS encryption, and also web hosting. That makes its plans not just affordable for businesses but all-inclusive too.
AI-driven customization: Jimdo Dolphin, the AI-powered builder, makes it very easy to create a website in a jiffy. You don't need to design the structure and layout on your own. Based on certain information that you feed to the software, you get a custom output that just needs to be fine-tuned before you hit publish.
Streamlined Experience: Jimdo doesn't force you to spend hours deciding on color themes and layout styles. Of course, you want to do all of that, you can use Jimdo Creator. Both ways, the website building experience involves no fluff and is completely streamlined to boost speed and efficiency.
Popular for web hosting and domain services, GoDaddy recently launched its updated website builder. What was previously GoCentral is now called Websites + Marketing. The update has made sure small businesses now have a robust solution to match the bigger players in the market.
Price: $10/month paid annually
Why is it great for small businesses?
Marketing-centric website building: Doing justice to the name of the updated builder, GoDaddy offers several digital marketing-centric features. From eCommerce to blogging and even visitor stats functionality is offered, which aid marketing in one way or the other.
SEO functionalities: GoDaddy has a very useful SEO wizard for beginners. If you are an SEO beginner, it is a welcome help. Though not too useful for experts, for small businesses, it does come in handy.
External Integrations: While GoDaddy offers an appointment scheduler, website popup, and messenger within the box, there is no app store. But that doesn't mean external integrations aren't possible. You can connect with SoundCloud, GoFundMe, Yelp, and OpenTable. Small business needs are mostly met with these integrations and inbuilt features.
Now that you know about the best website builders for small business owners, it is time to get started.
Just find the builder that offers features that match your needs and gear up for 2021 with your small business website. However, if none of these website builders seem like a good fit for you, and you already have an idea how your website is supposed to look like, but you just don't have enough time or skill to do it yourself, you might consider going with a custom web development company that can do all of the heavy lifting.