How to get More Instagram Followers using Proven Content Strategies
Posted on Jan, 24, 2022 I Elise
Figuring out how to get more Instagram followers is top on the to-do list of many business leaders.
As of December 2021, Instagram surpassed the 2 billion monthly active user mark – making it one of the most popular social platforms worldwide. It's also one of the channels with the highest levels of engagement, thanks to a huge selection of content and promotional options.
Of course, with countless other businesses and influencers also active on Instagram, it can be difficult to get your share of the growing follower count. One of the best ways to ensure you attract a higher quantity and quality of followers is with the right content strategies.
How To Get More Instagram Followers: Proven Tips And Strategies
While there's no one-size-fits-all strategy for online success, some efforts have proven to be more effective on Instagram than others. The good news is you don't need to be a social media marketing expert to get results.
Optimize Your Instagram Account
The first thing any business needs when figuring out how to get more Instagram followers is the right profile. Your Instagram account is the first opportunity your potential follower has to define you and determine whether they're interested in your brand.
Start by switching to a Business Account. A business account ensures your Instagram handle can be taken more seriously and highlights your position as a professional. You'll have access to extra information on your account that basic profiles don't include, like a specific industry/niche, an address, and a contact button on your profile.
Business accounts also give you access to Instagram Insights, so you can assess the results of your campaigns, and allow you to add links to Instagram Stories. You can even leverage Instagram advertising with a Business account. To switch:
Visit your Instagram account settings
Tap Switch to Professional Account
Choose a Business account
Add all of your appropriate business details, including contact information
Write a high-quality bio which describes what you do with touches of unique personality
Add a call to action and a link in your bio, leading back to your website or an external page.
Remember your Instagram profile should be 100% complete. This means making sure everything looks fantastic, from your profile photo to your selection of Stories highlights – each with their own thumbnail. You'll also need to provide your audience with all of the information required to convince them they should follow your CTA and click on your link.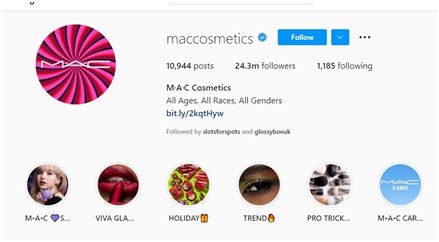 Avoid Fake And Ghost Instagram Followers
The more time you spend on Instagram, the more you'll recognize the "crowd mentality" on the platform. While people will follow your account for a variety of reasons, you're more likely to gain followers if you already have a large number of people connected to your account.
If you're in the early stages of your digital marketing strategy, and you haven't gained a lot of followers first, you might be tempted to fake popularity for a little while first. Buying fake and ghost followers can make it seem like you're more popular than you really are.
Unfortunately, fake followers don't work out as well as you'd think. While they may make you look more credible to begin with, fake followers:
Don't engage with your account, meaning your comment to follower ratio will be out of balance. Your customers will expect to see people connecting with your company if you have thousands of followers.
Damage your insights by making it harder to track whether you're really growing or not.
Harm your reputation, by showing customers you're happy to "buy followers" rather than earning them with great content.
Scare off real followers with spammy comments and inappropriate content. Many bought followers bring spam with them.
Risk your account status if Instagram finds out you're using ghost accounts. You may be banned if Instagram discovers your followers are fake.
Ultimately, fake followers do more damage to your account than good. While it's important you get more followers on Instagram as quickly as possible, you'll also need to ensure you're attracting the right kind of fans – people genuinely interested in your brand.
Organic growth might take a little longer, but it will get you better results in the long-term.
Keep A Consistent Theme And Content Calendar
Great aesthetics do a lot for your presence online, particularly on platforms like Instagram. While your followers will expect to see high-quality images ensured by fantastic photography, lighting, and good editing skills, they'll also be looking for something else: consistency.
Your Instagram "theme" is the unique aesthetic you use to make your content stand out. Zavvi UK, for instance, uses the same selection of brand colors in its content and highlights to provide its audience with a familiar experience.
Sticking to a theme will make your content stand out and help you to build a connection with your target audience. It's also worth committing to consistency in another way, too – by building a content calendar. Content calendars help you to determine exactly when and how often you're going to publish content on Instagram.
Studies show that profiles posting daily gain Instagram followers faster.
Try to follow a consistent pattern with your posting schedule, based on what you know your audience appreciates. You'll be able to use the Insights from your Instagram Business Accounts to determine how often people are online. Remember, having a content calendar also means you can leverage scheduling tools to help publish your content for you when you're not available. Some of the top tools on the market include:
Later: Later allows for scheduling photos and videos on Instagram. There's also access to Instagram analytics and hashtag suggestions, too.
Buffer: Buffer is a fantastic tool for scheduling posts, with access to advanced reporting and in-depth social analytics, so you can learn more about your target audience.
Hootsuite: HootSuite offers scheduling, monitoring, and content curation tools in one convenient package. You'll also get handy end-to-end analytics for your campaigns.
Work With Influencers And Brands
Figuring out how to get more Instagram followers is a challenging process. It's much easier when you have other people to help you. There are various partnerships you can consider when developing your Instagram brand. One of the most common options is to work with another brand that's complementary to yours.
For instance, if you were a health and beauty company, you might work with a fashion company to attract customers with a full makeover competition.
Alternatively, you can consider working directly with influencers who already have a connection to your target audience.
There are two key ingredients to a good Instagram partnership. First, you need to ensure you're working with a relevant brand or influencer – someone who can connect with your target audience and boost your credibility. Secondly, you'll need to create the right campaign.
Competitions and contests are one of the best ways to boost engagement when working with influencers and business leaders. You can invite customers to @mention friends for a chance to win something or encourage them to share pictures of them using your product or service to generate UGC (User-generated content) or future campaigns.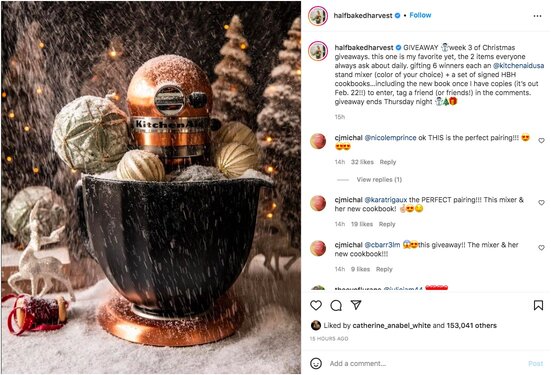 Another option is to launch a takeover, where an influencer posts on your account for you for a day or two – helping to pull attention from their existing followers.
Post High-Quality Content
This might sound like the most obvious advice on how to get more Instagram followers, but it's also one of the most important tips you can follow. If you want to increase traffic to your account, you need great content. Start by getting to know your audience.
Find out what kind of content customers already like and follow in your industry. This will give you a good starting point when you begin working on your campaigns. Next, start experimenting with different types of Instagram content. You can post photos on your feed, but you can also experiment with things like IGTV and Instagram Reels.
Currently, Reels appear larger than the photo posts on the Explore page, which could mean you grab more attention from the 200 million people who check this page every day.
Once you know what kind of content you're going to create, leverage tools to make it as attractive as possible. For instance:
Canva: Canva is an excellent tool for instantly enhancing your Instagram content with minimal technical knowledge. You can leverage free graphics, add filters, and even automatically resize your content to suit the Instagram guidelines.
Photoshop: If you're willing to spend a little longer learning how to use an Instagram editing tool, photoshop is the top choice. You can edit almost every part of your content with Photoshop, and make sure everything looks incredible.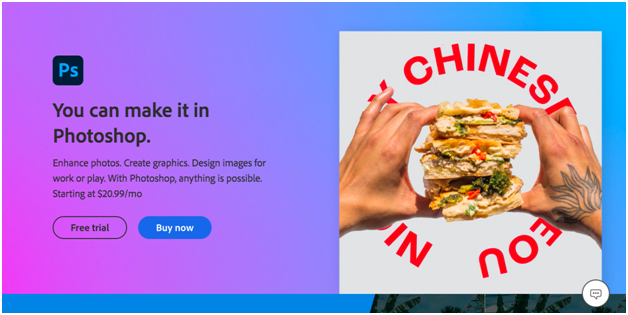 VSCO: Ideal for editing your content directly on your smartphone, VSCO is one of the most popular photo editing apps. More than 200 million posts feature the #VSCO tag on Instagram. You can use this app to filter and enhance your photos in seconds.
Don't forget to take full advantage of the tools built into Instagram too. You can add filters and make adjustments when you're done recording your video or snapping your photos.
Identify And Cater To Your Target Audience
High-quality content that looks great is always going to do well on Instagram. However, when you're trying to learn how to get more Instagram followers, it's important to remember you're trying to attract a very specific kind of customer.
You don't just want anyone to follow you on Instagram – rather, your focus should be on identifying a specific audience ready to purchase your products. Take some time to analyze your existing audience on other social media platforms and your current website so you can learn a little more about the kind of content they respond best to.
If you're starting from scratch with your social media audience, you can analyze your competition for insights into the kind of campaigns they produce.
Once you have an idea of the kind of content you should be producing, you can begin to experiment with different ideas and use your analytics to see what generates the most engagement and responses from your customers. Keep adding to your user profiles based on what you learn.
Learn And Implement Hashtag Strategies
Hashtags are one of the most important tools you'll have in any social media strategy. They're not just a way to spice up your captions; hashtags also help to improve your reach, by helping followers to find you on Instagram and other channels.
Instagram uses hashtags as a kind of search engine, so fans can search for specific terms, or click on the tags in another post to find content they're interested in. Building a hashtag strategy doesn't just mean making sure you add as many popular hashtags to your content as possible. The most effective campaigns use a combination of:
Trending tags: Trending hashtags are the popular tags currently earning the most attention in your industry, and on Instagram in general, they can help to get you the widest reach.
Niche tags: These are more specific hashtags focusing on a specific segment of an audience. Niche tags allow you to get more focused with your targeting, like using #Pugpuppies instead of just #Puppies in your campaign.
Branded tags: Branded hashtags are tags you create yourself. These help to get the attention of your target audience, and generate user-generated content, such as the #LushCommunity hashtag below:
Remember, Instagram allows for up to 30 hashtags per post, but this doesn't mean you need to use all thirty. Around 9-11 hashtags often offer the most engagement. Don't forget to examine the analytics from your campaigns to see which of your campaigns work best.
Finishing Thoughts
Learning how to get more followers on Instagram can seem complicated, but it's easier than you might expect with the right content. Learn how to speak to your target audience using the kind of campaigns best-suited to their interests, and you'll be on your way to some fantastic results in no time.