The Most Popular TikTok Tools To Elevate Your Business In 2022
Posted on Jan, 10, 2022 I Elise
The best TikTok tools can help you to attract new followers and enhance your position on one of the world's fastest-growing social media platforms. Already, this youth-oriented app has taken the world by storm with its trending "challenges" and unique content sharing strategy.
Even as TikTok grows more popular, many companies, influencers, and brands are still struggling to fully understand and leverage the platform. Like any social media landscape, TikTok comes with its own rules and nuances to consider. Staying ahead of the curve often means getting a little extra help – that's where TikTok tools come in.
The right software will help you to find influencers, increase your follower count, and even create more attractive content. Let's explore some options.
TikTok Tools for Influencer Marketing
Influencers have a significant role to play in social media marketing success on any platform, but they're particularly useful on TikTok. By connecting with influencers, you can get ahead of the latest trends, and even create new ways to engage your audience.
InfluenceGrid
InfluenceGrid is a dedicated tool for tracking down the kind of relevant people you need to help grow your presence on TikTok. The service is quick and easy to use, with a simple search bar so you can look for people related to your industry. Your search results show everything from the country your influencer is located in, to their number of followers, and engagement rate.
InfluenceGrid will ensure you find TikTok influencers that suit your budget, and your target audience, so you can get the best ROI on your campaigns. Benefits include:
Quick search function
Full stats about any influencers you're interested in
Easy contact option to reach out to partners
TikTok email finder included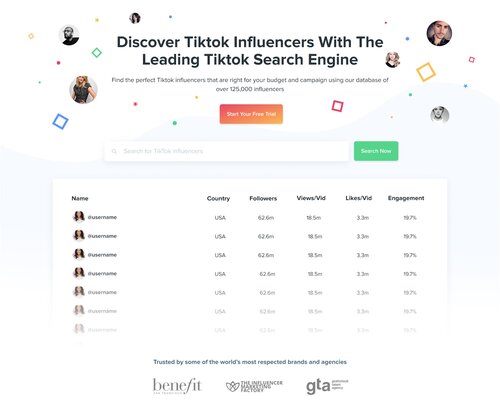 Fanbytes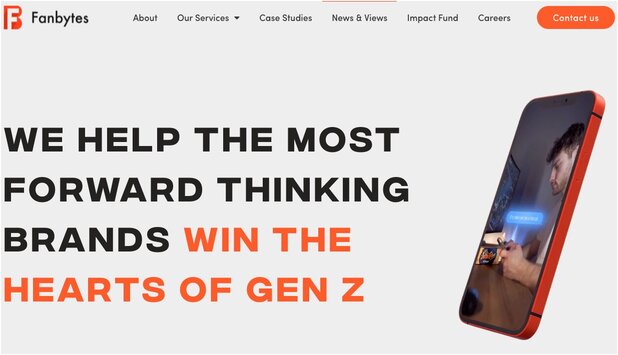 Committed to helping companies connect with the younger audience members in Gen Z, Fanbytes helps users search for influencers across TiKTok, Instagram, Snapchat, and YouTube. To use the service, you reach out to FanBytes and connect with their influencer network. The experts behind the service will help to link you to the people most likely to grow your company.
The fully-managed creative campaigns mean it's much easier to create the kind of compelling content that appeals to your target audience. You can even learn a thing or two about producing content from the influencers available. Features include:
Fully managed service for quick and simple campaign creation
Excellent selection of available influencers
Support with content creation
Organic and paid social campaigns available
TikTok Money Calculator

As influencer marketing continues to gain traction on TikTok, it can be difficult to predict how much you're going to need to spend to work with some of the biggest names in your industry. That's why it's so important to have the right TikTok money calculator.
The solution works by allowing you to search for your influencer by name and access an insight into the estimated price per post you'll need to pay. You can also calculate your own potential earnings as an upcoming influencer, using factors like follower count, niche, and country. Beneficial features of the TikTok money calculator include:
Easy planning for your content budget
Great for finding the right influencer options
Can help you calculate your own possible earnings
TikTok Tools For Content Scheduling
Once you've found influencers to help you create the ultimate content, the next step is scheduling this content to appear at the right time for your audience. Scheduling is important on social media, because it ensures you reach your audience just when they're most active.
Loomly
Loomly is a convenient "brand success" platform with a host of features, including a calendar environment where you can track and plan all of your upcoming social media campaigns. If you want to keep track of everything from your Twitter feeds to your TikTok account, you can do it all with Loomly. Plus, it's easy to keep an eye on your wider team, too.
Loomly can also help you to come up with new ideas for TikTok content by giving you access to valuable custom post ideas, RSS feeds, and trends. With the ability to manage and schedule all your assets in one place, it's easier to get a lot done. Benefits include:
Inspiration for your content calendar
Step-by-step guidance for creating campaigns
Access to all of your assets in one environment
Shared collaborative environment for content teams
Social Pilot
Social Pilot promises businesses everything they need to reach their social media marketing goals in one place. You can access a comprehensive calendar for planning your posts, as well as powerful publishing tools and insightful analytics to help you create new campaigns.
SocialPilot allows users to create and schedule multiple TikTok videos at the same time. There's also a number of content curation features, so you can discover relevant and trending content for different keywords and influencers in your landscape. Beneficial features include:
Content curation tools for inspiration
Create and schedule multiple TikTok videos at once
Analytics and insights into your top-performing campaigns
Track multiple profiles at the same time
Top TikTok Analytic Tools
Achieving great results for any digital marketing campaign starts with making sure you can track important analytics and insights. Reporting ensures you can see which of your TikTok videos are attracting the most attention, and where your audience is coming from.
TikTok Analytics
TikTok has its own analytics environment you can use to create more effective campaigns. You need a TikTok Pro account to use this feature, but it's free to access. Within the service, you'll be able to track important KPIs and metrics, such as where your customers are coming from, which of your content pieces are getting the most attention, and so on.
When it comes to powerful TikTok tools, TikTok analytics is an excellent choice. You can even access the comprehensive TikTok Ads Manager, where you can get involved with paid campaigns to improve your brand visibility. Features include:
Extensive information about your target audience
Content insights to help with future video creation
Access to ad options for marketing
Easy-to-use design
Analisa.io
Offering both Instagram and TikTok analytics in one, Analisa is an AI-infused solution for TikTok insights. You can use it for campaign reporting, follower demographics, follower authenticity tracking, and more. The ecosystem is useful for growing businesses and social media marketing agencies alike, with a host of reports to choose from.
If you really want to ramp up the success of your Instagram campaigns, Analisa will break down everything from your content engagement rates, to your competitors in a way that's easy to understand. You can even map potential influencer connections. Benefits include:
Comprehensive campaign reporting and historical data
Insights into follower authenticity and content engagement
Influencer mapping to help you make connection
Easy-to-understand reporting
Pentos
Specifically designed for TikTok analytics, Pentos gives you insights into songs, videos, trends, artists, challenges, and accounts, all in one place. Pentos is a popular tool among today's TikTok users, as it helps you to review the performance of other TikTok accounts.
If you're trying to learn more about your target audience, examining things like which songs and videos are trending on TikTok will help you to make the right choices. You can also track the performance of your own campaigns over time and use the data to make more intelligent choices about future content. Beneficial features include:
Easy insights into trending challenges and songs
Tracking for your own profile and competitor profiles
Hashtag research and trending topic insights
Free to use various aspects of the service
TikTok Video Editing Tools
Video editing options come built-into TikTok already. However, with so many people trying to stand out on the platform, it makes sense to access some extra TikTok tools when you can. There are plenty of options to consider, such as:
TikTok Video Editing
Right after recording your video on TikTok, make sure you take full advantage of the built-in editing capabilities for adding filters, soundtracks, and unique effects. Tap the "+" icon on your video screen to search through the available options for upgrading your video. Make sure you add sounds, too, as they can help you to get discovered online.
There are several excellent options to choose from with TikTok's editing features, including the option to speed up or slow down your video, smooth your appearance, and even trim certain parts of your video you no longer need. Benefits include:
Wide range of popular filter options, including Beauty mode
Playback speed settings, trim and mixer options
Access to trending sounds which improve your searchability
Easy to use within the TikTok account
Wondershare
One of the most popular video editing TikTok tools, Wondershare makes it quick and easy to add a range of professional-looking elements to your content. There are various overlays and filters which can make your content stand out on TikTok, as well as a variety of "fixes" for your videos, too.
Wondershare comes with access to various Filmstock options, too, which means you can easily access royalty-free video, audio, and stock image files. If you want to learn more about video and photo editing, Wondershare even has its own school academy where you can develop your skills for the creation of future content. Beneficial features include:
Comprehensive customer support and user tips
Filmstock with royalty-free content access
Lots of overlays and filters to make your content stand out
Easy-to-use for creating professional videos
TikTok Tools To Grow Your Following And Engagement
So far, all of the TikTok tools we've covered can help you increase your following and engagement by giving you access to better content and support from the right partners. However, there are some software solutions out there specifically designed to boost engagement.
TokCaptain
TokCaptain is a controversial but popular tool for TikTok growth. Essentially, it allows users to buy TikTok followers, views and likes for their account. If you need help gaining initial presence on TikTok when you're first starting out, you can use TokCaptain to increase your exposure. You'll choose a service such as help with engagement, or building followers, and TokCaptain does the rest.
TokCaptain works by marketing your profile towards your target audience, so you just need to focus on creating high-quality content. The service can even offer immediate results. Beneficial features include:
Instant access to new followers and likes
Custom support to match your goals
Genuine growth from targeted followers
Easy to use compared to other services
StormLikes
Similar to TokCaptain, StormLikes is another of a selection of TikTok tools intended to help you automate your growth. If you need to boost traffic to your TikTok account, the StormLikes service can help by automatically going out and liking content on your behalf. It's a decent platform for getting real followers and views fast.
Although you should still be getting out there and creating high-quality content when using a service like this, StormLikes can help you with getting the initial engagement you need. Features include:
Quick results with instant auto-likes
Easy to use for gaining attention on TikTok
Enter your details and get started immediately
SocialViral
SocialViral works a lot like StormLikes and TokCaptain, to help you attract new TikTok engagement as quickly as possible. The solution promises immediate results and genuine likes from real people – rather than spammy bots. You simply get in touch and choose the package you want for likes, followers, and engagement, and SocialViral does the work for you.
One of the good things about SocialViral is it has high standards for how it grows your TikTok following. You don't have to worry as much about spammy bots and other issues here. Features include:
Easy-to-use environment for beginners
Dedicated to finding high-quality likes and followers
No risk of being banned from TikTok
TikTok Management Tool
Finally, if you're going to be dedicating a lot of time and effort into making your TikTok strategy a success, you're going to need something to help you manage your campaigns. There are a number of great options for TikTok tools in this area, such as:
Vire
Vire, or "The Vire" promises to help you grow your TikTok account without relying on automatic likes, comments, and follows. Instead, they help you to manage your TikTok presence and build your account through genuine engagement with your audience.
Basically, Vire provides users with a social media manager who can work with them to capture the right target audience. The service is excellent for influencers and businesses alike who struggle to find the time required to dedicate to TikTok growth every day. You can even get help with things like hashtags and trends to grow your brand. Features include:
Dedicated to finding your specific target audience
Genuine engagement from a TikTok social media manager grows followers
No automated likes or following strategies
Extra assistance with your campaigns when needed
Using The Best TikTok Tools
TikTok tools can be an extremely useful way for businesses and influencers getting started on TikTok to make the most of their campaigns. The right technology will help you to improve the quality of your content, reach the right customers, and interact more effectively with your followers. With a selection of the tools mentioned above, you'll be on your way to amazing campaigns in no time.
Just remember to keep a close eye on your analytics when running your campaigns to ensure you're investing in the right strategies for success.