How to Improve your eCommerce Website Design to Boost Sales (The Ultimate Guide)
Posted on Sep, 4, 2020 I Elise
E-commerce has started a revolutionary change in business. The people of the world have embraced the concept of getting the product from home. Trading is usually done through e-commerce websites. Although the product is also traded on various social media, the website is the most reliable and accessible medium. So a lot depends on how well-organized a site is and how it can attract buyers.
Numerous e-commerce sites have been created and are being created. Can all of them be popular? Is everyone able to make a profit in business? The answer is no. One of the most important things you can do to succeed in e-commerce is to have a well-designed website. So how can a website be well-designed? What things to add, and what matters to avoid? That will be discussed in detail in this article.
Is it too important to improve the design of the website?
Yes! It's the best thing you can do to grow your online business. Why is it so essential? Let's dive into the reasons.
Creates the First impression:
When a customer enters your website, first of all, if the design on your website is right, then he will have faith in your website. This is precisely the place you went one step further. When a buyer thinks your site is reliable and useful, he will be more interested in shopping from your website.
An optimized website increases traffic:
If your site is right in design and streamlined, it will be ranked by Google. Being at the top of the rankings naturally increases your traffic. And increasing traffic means reaching out to your target audience and boosting your sales.
1. Optimize your site for mobiles:
Let me tell you a surprising survey result. More than 55% of website visitors use smartphones to access the Internet. So, it turns out that more than half of your customers are mobile phone users. So you must have understood how important it is to optimize your website for mobile phones. Another convenience is, a mobile-friendly website is SEO friendly. When your website is well designed for the mobile, it's also optimized for all types of devices. So Google ranks your website on the top. If you follow the top-listed e-Commerce site in the world, they all are so mobile friendly. So this improvement will be an effective tactic to boost the sales of your business.
2. Keep it simple. Make it smart:
Simplicity is the other name of smartness. The more simple your website is, the more it will look good. Just think like a customer, Do you like a site with so many options and pictures with multiple color contrasts? Not. You won't spend your money on a scribbled and scrawled website. Now the question is, how can you make your website look simple and functional at the same time? Well, it's about your choice sometimes. But definitely, there are some tips that you can follow through. Read the next points; you will get the ideas.
3. Colors control human psychology:
Do you know color contrast can control a person's psychology as well as perspective? Studies show that people like the pages that have perfect color contrast. But the question is, how can you know one's choice? Everyone has different options. Well, some colors positively impact your brain. They are:
Dark Blue
Bluish Green
Red and Orange
Pink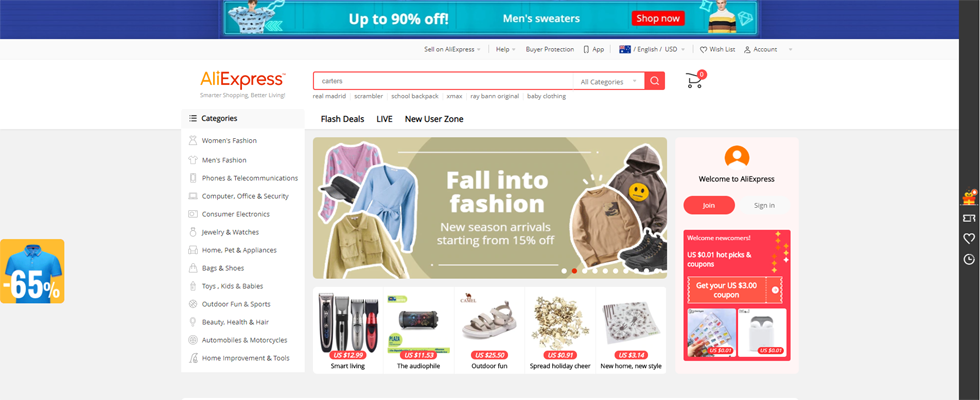 If you follow some top e-commerce sites, then you can understand the fact.
Amazon is the number one e-Commerce site worldwide as well as Ali express. Notice the color shade of their home page. No excessive dark colors, No odd colors, or no multicolor shade. They just maintain an eye-soothing color concept and straightforward theme. You don't have to copy their theme, but you can maintain the color selection idea.
4. Add Attracting photos of Products:
Professional looks are essential to attract customers. How to make a photo professional? Well, you can follow some basic rules to make it look professional.
High-Resolution Picture: Uploading resolution picture is essential. Firstly it creates positive feelings about the product. Secondly, it impacts the customer's mind, and they want to buy the product.
Well- Decorated Photo: You should not upload a random photo of the product. Some professional photographers can capture perfectly. So you need to upload professional looking pictures on your website.
Impacts on SEO: Low-quality pictures are not suitable for your website. Because it affects search engine optimizations ranking.
5. Highlight the prominent brands:
If you sell high quality branded products on your website, then naturally, your buyers will mark your website as an excellent website. But since not all the products of an online shop are of high-quality brands, the products that you will highlight on your site are of high-quality brands. This will make your customers like your website at first sight and will want to shop from here. And always try to make sure that your products are of the best quality because no matter how much you beautify a website, you will never be able to retain a buyer if your product is not satisfied with the buyers.
6. Must add the "View Cart" Option:
Don't forget to add this option when you design your website. But why does this option add to every e-commerce site? The reason is that when a shopper wants to purchase the view cart option, his shopping becomes much more comfortable. This allows the buyer to see what products he has listed for purchase and how much they are costing. This option is very user friendly, so never forget to add it to your website.
7. No Hidden Charge, Clear Pricing with vat:
Many eCommerce sites do not write their pricing. This is an evil practice. Because it creates a negative idea of ​​your customer towards your shop, so you will include the price of your product in an obvious way. And if there is any tax on the given product, then write down the total value, including that tax. This will allow the customer to view your product and buy according to their budget with great ease. And one more thing to keep in mind is not having any kind of hidden charge because the hidden cost can make your customer very annoyed with your product and not worry about re-purchasing from your shop.
8. Search Button to find Product:
We all know how necessary this button is. We use this button every time. A customer will first go to your website and search for the required item to see if it is available. Your search option optimization needs to be done in such a way that the buyer can find out the product very quickly. If the name of the product that the buyer has searched for is not there, then the design improvement should be made to show the related product.
9. Add category or Sub-category:
When the products are sorted by category or sub-category, a buyer can easily find his desired outcome. Suppose your customer wants to buy some women's accessories. If you have created a group called Women Product, then your customer can easily buy all the products that meet his needs at once. You can create different sub-categories based on what kind of product you sell with e-commerce. Generally, if you keep 8 to 9 categories, it will be convenient for the buyer. You can find these options on almost every successful e-commerce site.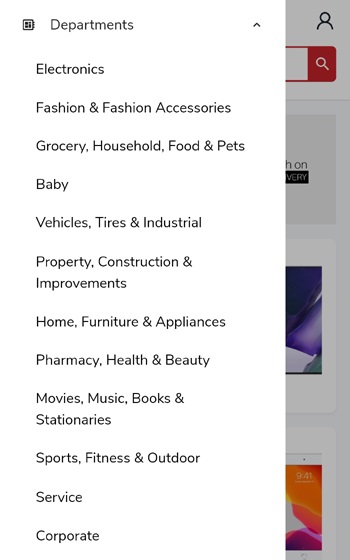 10. Show the discounts and offers:
Discounts and offers always attract buyers to shop. Discounts and offers are given mainly to increase sales. This style of marketing is a successful practice that has been practiced for a long time. But if the buyer does not see those discounts and offers, then it will be meaningless. Therefore, you always have to highlight your proposition and show the discounted products. This small design update can result in a massive increase in your sales.
11. FAQ option:
Frequently Asked Questions option is a valuable part. Frequently asked questions mean that items are usually in people's minds about your various products and services. Now the question is what kind of questions and answers can you add in the FAQ section. In that case, I am giving you some suggestions that you can follow. Also, you can add different questions on your own:
Product Returning and Refund policy: This is usually mentioned in the policy section. But the policy section is extensive, and most buyers do not read it. So you can discuss the product return policy or how to refund the money in your FAQ section.
Product packing and Delivery Management: The buyer usually wants to know how the product will be packed, how it will be delivered, and how long it will take to get the delivery. So adding related information is a wise thing to do.
12. Filtering Option:
A filter option is an excellent option for product searching, which can be very helpful for your buyer. How to sort the filter option? You can offer many filtering options. Such as,
Lowest Price to Highest Price
The highest price to Lowest Price
Top Selling Item
Offer and discount
Newest Collection
Noted options are used most of the time. However, you can add different fielders of your choice, which will be helpful for people.
13. User-friendly Layout:
The most challenging part of website design improvement is creating the layout.Because it is very confusing and tough to decide how to create a layout that will be a favorite of people? Confusion about how to create the best plan? For this, I can give you a helpful tip."Think like a customer". Suppose you are a customer, and you have come to shop from an online shop. Now think, what layout will look attractive and useful to you when you see it. This way, you can create the design most beautifully. But for this, you should follow other popular eCommerce sites. You must not copy, but you will feel their ideas.
14. Highlight the positive reviews, Handle the Negative comment:
You can encourage your customers to give reviews. How can you do this? Many times buyers are happy to get your product and give you reviews. But you can also get reviews from buyers with encouragement with a small improvement in your web design. Your website shows a thank you page after shopping. You can add the rating option to that thank you page. By doing this, your buyer can instantly give you a review without any hassle. Positive reviews are beneficial to boost the sale.
15. How to handle negative reviews?
First of all, you should not delete the negative reviews and try not to run away. Because doing so will make your customers angry and tarnish your business image in different places, including social media. So read his problem patiently and try to solve it quickly so that your customer will trust you.
16. Put the link of Social Media Page:
Include the ID or page links of your social media such as Facebook Instagram etc. on your website. How can this step boost sales? Well, people love to spend their free time on social media. Social media is now one of the most significant sectors of marketing. If your customer follows you on social media, they will be updated with the offers or new products. That will inspire him to buy more things from you.
17. Contacting info for any query:
You can provide an email address and phone number to contact you for any questions. It will not increase your sales directly. But it has a far-reaching impact. When a buyer needs to contact you via email or phone number, if you respond to him appropriately, the chances of buying are significantly increased. It also builds a good relationship with the buyer, which brings a good impact on your business. Above all, keeping in touch with your customers and replying to them in case of any need will brighten your image and help you grow it.
18. Look Professional and natural:
Don't add any informal approach to your website. Because people like professionalism in business. Sometimes the marketing policy requires using simple sentences. But Never Use Any Offensive Item. It can be the add, or a description or anything, never create controversy. Many businesses try to generate discussion to make it easier to reach more people. But absolutely this is a bad practice. It may increase the traffic for a short time, but you will lose your reputation permanently.
Wrapping Up
The growth of a business is a long time task. It needs enormous dedication and hard work. You have to look after every single detail of your business. E-commerce is an excellent way of business nowadays. Almost every company is providing online services. So, this is a competitive section. If you want to win the race, you have to be unique and work neatly and cleanly.
The tips to improve your E-Commerce website design to boost sales are competent and have been practiced by all successful e-commerce companies. Website design can take time. You may need to fix the bugs and ad settings again and again. Following the tips will help you a lot. Make your website fresh, and grow your business.
Author Bio
Maqsood Rahman works at SEO Audit Agency, an SEO Industry Leader in Bangladesh, is founded by Mr. Maqsood, who has a total of 15 years of experience in the SEO Industry (12 years in NYC and 3 years in BD). He is highly dedicated to helping companies develop their Digital Marketing strategies.